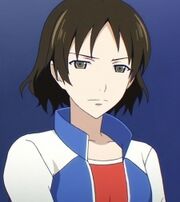 Machiko Iwabuchi is a teacher at Madoka's school, who was a member of the Jersey Club along Yoko and Madoka's mother. She is voiced by Azumi Asakura in the Japanese version and Dorothy Elias Fahn (under the pseudonym "Midge Mayes") in the English version.
Personality
Edit
She is considerably strict and tough on several people, particularly on Madoka. However, this is mostly so Madoka can figure out problems by herself.
Appearance
Edit
Her usual attire consists of a grey jacket with gray pants and a white button-up shirt.
Her swimwear is a two-piece with a red swimsuit top and a black bikini swimsuit bottom. This has appeared in episodes 4, 7, and the Special episode Kamogawa Pool Cleaning. This is often accompanied by a blue and white jacket.
At one point, she has worn Kamogawa's school swimsuit in Special episode 5, Kamogawa Love Story, much to the confusion of Shōko Igarashi.